Ok Go with Tim Nordwind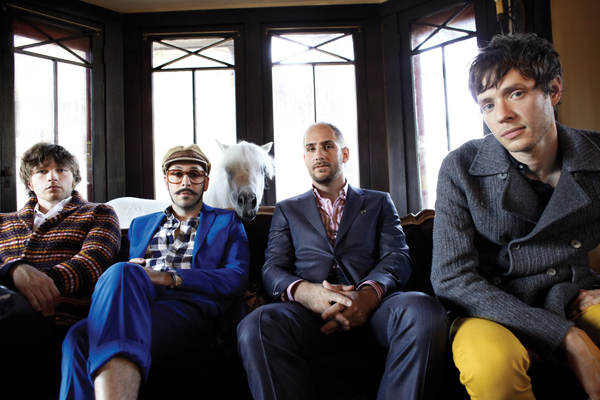 Carter Theis interviews Tim Nordwind, bassist for Ok Go
Enoch Magazine ) As far as instruments go, are you guys constantly staying up to date on new products and models, or do find yourselves staying with one guitar or drum kit that you just love. Cause I imagine you can get new equipment whenever you want right?
Tim ) New recording and music technology is always exciting and interesting, sometimes even a little overwhelming, the options are endless it seems. Finding that middle ground between a super cool new plug-in, a micro-synth pedal, a drum sequencing program, whatever it is; and some good old fashioned creative thought is the most fun. I enjoy re-imagining a guitar solo with a Moog, or making a violin quartet out of a light generated noise machine. I wouldn't call us total new gadget geeks, but we enjoy finding new and old noise making machines that can be controlled to make music. I will say though, there are times when all I want to write with is my Silvertone acoustic guitar that I bought right after college for fifty bucks at the thrift store, some pots and pans for a beat, and a four track. So I guess, I like it all.
Enoch Magazine ) When we heard we had the chance to interview you, we asked people what was unique about "Ok Go?" and most people said "they have amazing videos". Even your press release calls note to this, something like 170 MILLION video views!!? As musicians, is this cool or frustrating (sometimes having your videos mentioned before your music).
Tim ) The music industry is in disarray. The old major label model is slowly crumbling, and all of a sudden the definition of what it means to be a band is being redefined. Not only do we make records and tour, but we also get to direct our own videos, write for magazines, act in films, help raise money for displaced musicians who lost their homes in New Orleans, feed the homeless, get involved in politics, produce plays. Music is a huge part of what we do, and enjoy; because of it we've gotten to do so many other great things. If people come to hear the music because of the video then great. If they continue to keep coming back for more, well then even better.
Enoch Magazine ) Your famous treadmill video. I imagine that would get tons of views on youtube whether you were a band or not. Was that production a calculated decision given the viral climate created by Youtube?
Tim ) We aren't marketers, we just like to make stuff that we hope people will like. We thought after the accidental success of the backyard dance video for A Million Ways, it would be a fun gift to our fans to make another video, but ratchet up the level of absurdity. We really didn't think anyone but our fans would see the Here it Goes Again video. It was a great surprise to see the treadmill video catch fire the way that it did. We never could have guessed or imagined the kind of success that video enjoyed. You can't plan these types of things really, I wish we could, but we can't. We just hope to make things that will light people up.
Enoch Magazine ) Ok, this is the biggest "loaded" question in the world, but it's a new issue I'm wrestling with and I'd like to hear your thoughts: Our magazine spends most of it's time documenting ministries around the country. We also live and work with the homeless in Skid Row LA. At one time…doing stuff like this… it was very acceptable or common to say "I'm doing this to create awareness," (much like a photographer will take beautiful portraits of homeless and post them on flickr). But now with the internet, awareness is no longer the problem. At what point would you say "creating awareness" is no longer needed and instead, direct action and the restructuring of our time and priorities is what is needed to combat injustice, the poor and the oppressed?
Tim ) Well, that's a good question. The internet has not only been an amazing way to create awareness, but also an great tool for rallying people together to actively go out and make a difference. For example, a few months ago, we reached out to our online fan base in Chicago to help feed the homeless. We got 25 volunteers to make 15 burritos a piece, and then we walked around the city passing them out to the homeless. Creating awareness will always be needed, but it's great when you can connect it with an activity that can make a small or big difference, and hopefully do a little leading by example.
Enoch Magazine ) Most of us at Enoch Magazine are Christian. So we believe in Jesus and try to study the Bible, etc. Is there a topic or aspect to Christianity that you've always thought seemed weird or lame? And flip side, is there an aspect to "Jesus" that you like or respect?
Tim ) I'm not very religious myself, but I believe in the expression to each his/her own.
Enoch Magazine ) Growing up, what jobs did your parents have? And did those occupations lend themselves to any funny or unique situations that you'll always remember?
Tim ) My father was a tax attorney, and a fairly conservative fiscal Republican. My mother was a weaver, and a totally liberal Democrat. No, I'm not pitching you an idea for a sit com, this was my life. It was kind of incredible to grow up in a household so politically divided, but as a family unit we somehow kept it together. It led to a lot of comical debates, and comedy in general. I'm here to tell you it is possible for both Republicans and Democrats to like Benny Goodman, mid century modern Danish furniture, The Boston Red Sox, and Mel Brooks, that much I know they agreed on.
Enoch Magazine ) I read that you guys testified before Congress and then played in the Senate Chambers. That seems like a very unique opportunity. What exactly were you testifying about and how did it come about that you played for the Senate.
Tim ) Damian was asked to speak before the House Judiciary Committee on the importance of net neutrality to the music community. Basically, Internet Service Providers want to charge content providers for the faster loading of their sites. Those who couldn't afford to pay this toll would be stuck waiting for sites to load, if they'd load at all. Of course much of our bands success last album was due to the fact that everyone (relatively speaking) had access to, and could watch our video online. Many bands benefit from the fact that anyone with an internet connection can find them online and listen to their music. If Internet Service Providers starting charging for this privilege, only those who can afford to pay will benefit. During Damian's trip to DC he was asked to play in the Senate Chambers, and so what was he gonna say, "No? When the Senate asks you to bring the rock, you bring the rock.
Enoch Magazine ) Hurricane Katrina hit a lot of people hard. Where did your passion to raise money for Al Johnson to buy a house come from. Are you guys big fans?
Tim ) We are big fans of Al "Carnival Time" Johnson. Music is such a rich tradition in New Orleans. So many musicians and cultural bearers in New Orleans lost their homes due to Hurricane Katrina and the civil engineering mistakes that caused the levies to break and flood the lower 9th ward. We work with two political organizations called Air Traffic Control and The Future of Music Coalition who for several years now have been taking musicians down to New Orleans to not only discuss political issues that affect the music community, but also to create awareness and remember the tragedy in New Orleans. We were fortunate enough to have been invited down to NOLA to tour many of the still devastated communities, and to try and help however we can. We made an EP with a New Orleans based horn rock orchestra called Bonerama. All proceeds go to help bringing home displaced musicians who want to get back to New Orleans. One of the songs on the EP, a cover of Bob Dylan's I Shall Be Released features Al Johnson. I am happy to report we were able to raise enough money to get Al Johnson a new home in the Musician's Village, NOLA.
Enoch Magazine ) With such a big fan following you guys really have a chance to make a difference. What are some organizations that you help out or are really passionate about their causes?
Tim ) A few organizations we work with are:
Air Traffic Control who help connect the music community to social action. They work with interested musicians on a myriad of different issues such as humanitarian relief, energy and the environment, human rights, health care…The list goes on.
Find out more about Air Traffic Contro
.
Inspiration Corporation who help people affected by homelessness and poverty to improve their lives. They helped us put together our burrito project in Chicago.
Find out more about Inspiration Corporation
Future of Music Coalition is a national non for profit organization that works to insure a diverse musical culture where artists flourish, are compensated fairly for their work, and where fans can find the music they want. The Future Of Music Coalition helped us put together our benefit EP for musicians affected by Hurricane Katrina. They are a wonderful organization.
Find out more about Future of Music Coalition
Enoch Magazine ) Until a few months ago I was driving a 1991 Toyota Previa Mini van that had 339,000 miles on it. I loved it and bought one just like when I moved to California. What vehicles do all your band members drive? If money was no option what is your dream car?
Tim ) We all have piece of sh#$ cars. Between all of us we have a dented Ford Focus, a super dinged up Subaru Station Wagon, and a sensationally banged up Honda Civic…Well I think you get the idea, many of us are bad drivers, and have operated under the idea — Why have a nice car if it's just gonna get banged up? My dream car you ask??? Hmmmmmm…The new battery powered Aptera. The Aptera looks like what Woody Allen would have thought in the 1980's a space ship to look like. It's pretty cool.
Enoch Magazine ) If you could meet one celebrity dead or alive who would it be and why? What are 3 questions you would ask them?
Tim )Harry Houdini because I would love to see him perform his magic live. I'd probably ask him if he thought magic helped improve the world? What else besides magic was he interested in? And you know, probably see if he'd show me how to do some slight of hand type stuff. I like magic.