Climber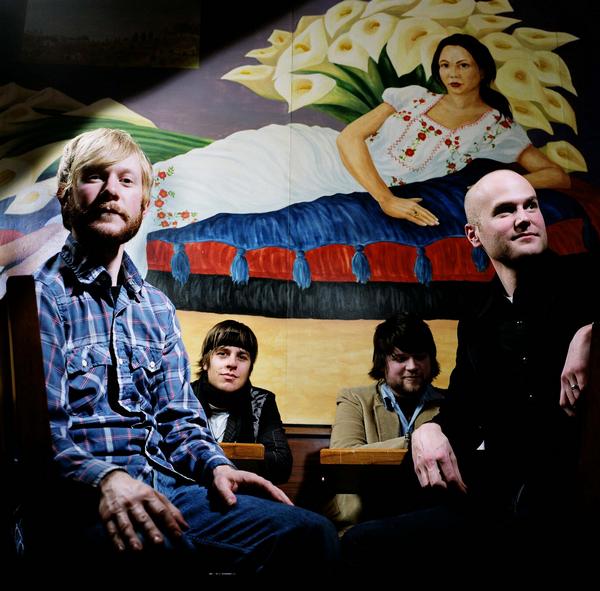 Interview with singer/writer Michael Nelson (courtesy of Fabtone Records)

● How did you come to form a band? Please tell us the story behind the birth of the band.
Climber was formed in about 2002 when we were all 20 or 21 years-old. We had previously played in a band that was heavy on acoustic guitars and funky, complicated parts. We wanted to experience some different sounds, styles, and instruments, and had been very influenced by the creativity we heard in Bjork, Radiohead, and local Portland bands like Menomena. We were mainly just messing around recording songs with our keyboards and drum machines when we decided we should actually think about playing live. But it was at least a year before we played shows. We just sort of "lived" in the basement, writing, recording, and having a good time making music. When we started playing shows, we already had a pretty decent list of songs.
● What is the musical background of each members? Did anyone play in a different band??
Michael Nelson (vocals, piano) and Dean Ivester (guitars) were original founding members of Climber, and had played in a band together in high-school. Kyle Lockwood (keyboards, bass, cello) joined the band in 2004, and had previously been a music performance major at Portland State University. He also played shows of many different styles, including polka, classical, and pop-rock covers. Eric Lemiere (drums), Climber's newest member, joined the band in 2007, and was previously in a band called The Listening. Each member of the band is versatile, playing more than one instrument, and participating significantly in the recording, writing, and producing process.
● It seems that your previous work has more electronic elements and this album "I Dream in Autoplay" has more live band sounds. Is this because how you wanted to make the album? In other words, did you have certain concept how you wanted to make the album "I Dream in Autoplay"?
That's true, the first album was almost completely electronic, while "I Dream in Autoplay" is more live. This actually just grew out of our live show. We were playing three or four times a month for a while, and this got us in a habit of thinking about what sounds and songs worked best live. Some of the moody, synthesizer songs were more difficult to reproduce, and many of them didn't require any drumming (which left our drummer a little bored), so we started writing more active, traditional "band" songs. It wasn't a conscious effort to make a totally different album, but just a natural progression from being a band that never played live to one that did little else.
● I think a lot of people compare The sound of Climber and RADIOHEAD but do you like it or not like it?? It's tough to be compared to such a radically influential band. But Radiohead is one of our favorite groups, so we can't complain too much if our music often pays homage to them. I think mainly people just need a reference point when they talk about music, and Radiohead is an obvious reference point for our sound.
● Please give us your opinions and thoughts on the present music scene. Tell us anything.
Well there are lots of different scenes, I suppose. We are having the time of our lives in Portland, playing with magnificent local bands and enjoying their creativity. I don't have too much authority to talk about the American scene, but I would venture this: I think rock and indie-rock music is moving toward being fun and positive right now, which I like very much. Despair and emotionalism in music is all well-and-good, but after a while, you want something that makes you cheerful.
There will always be pop music that feels trite and cliché to many people, particularly musicians, but I think there is something to be learned from pop music production, specifically the way the parts the producers want to get across is totally obvious. This helps people understand the music quickly. Now, one doesn't always want music so easily digestible as that, but I think there are things to be said for it.
● One final question. What does Music mean to you??
I've been thinking lately that music is a bit like performing a drama. The lyrics are like lines in a play, and singing sometimes feels like playing the part of a character. This is a huge question that could lead me to ramble on an on. I love music because it involves the ears and the whole body. It makes you want to dance or laugh, and also, if the lyricist is any good, it can make you think and feel, like you've just read a good poem. What a good idea music was. In "Lord of the Rings," by J.R.R. Tolkien, the universe is created through the singing of the gods and angels, and in C.S. Lewis's "Chronicles of Narnia," the world is made the same way. I like that idea. There certainly does seem to be an almost magical or spiritual quality to music sometimes.