Chad Johnson – Come&Live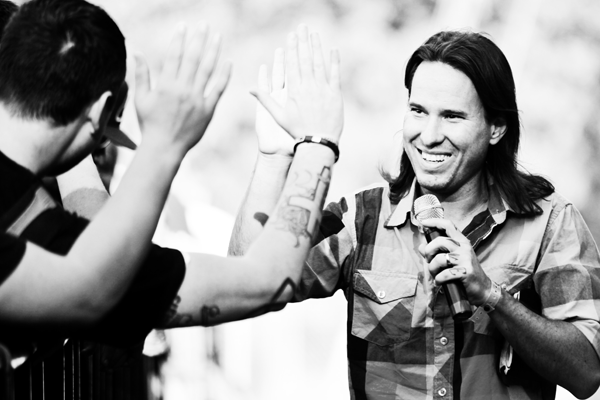 Interview by Brandon Ryan
If you know anything about the history of Tooth and Nail Records, then you've probably heard the name Chad Johnson. Chad is a guy that is very easy to come across, but then very hard to find at times. Initially, he stood out to us because he was the only one at Tooth and Nail that would respond to an email or voicemail. Back when we were a clothing company, Chad Johnson would regularly send us stickers, CDs and music promos to include with our t-shirt orders. He also would help us connect with bands.
But years later, the name Chad Johnson began showing up again. He had left Tooth and Nail, but bands that were on the label or had been on the label would bring him up in our Enoch videos. We'd ask how the bands stay grounded in the Lord, and they would say, "Well Chad Johnson encouraged us to do this, or Chad Johnson warned us about that." We began to realize that this name that we had never put a face to had impacted a decade of ministry. He saw the big picture of staying true to ones belief in God and Christ crucified for our sins. Rather than getting caught up in the marketing and sales, Chad was doing what the Bible says: discipling others! WHAT? Here's "7 Questions" with a guy we love, (but still have never met face to face).
Enoch Magazine : Chad, you once had a very comfortable job with Tooth And Nail Records. I still can remember the amount of CD's you sent me, (Thanks man). Was it hard to leave, knowing that the Lord was asking you to give up such comfort?
Chad Johnson : You're welcome for the CD's, Brandon! No, it actually wasn't hard at all to leave. I think it was much harder after the fact. It's almost like spiritual adrenaline took over in the moment. I felt such a peace and such confidence that this was God prompting me. For a couple of years I had been questioning my involvement in the Christian Music Industry and whether or not I could really justify continuing to give my life to something that I felt very little passion for. The leap wasn't immediate and it wasn't impulse; the Lord had been preparing me for a couple of years to make this move. The hardest part has been learning to depend more fully on Jesus in my pursuit of Him. I've realized that it's easy to dream big when you're sitting behind a desk and everything is working and falling in place for you, but where do the dreams go when nothing seems to be going according to plan? God's goodness and faithfulness draw me into repentance daily. I just want to know Jesus and I want to help others see Him more clearly. Comfort is relatively meaningless in comparison to the great riches of knowing (and even more, being known by) Christ.
Enoch Magazine : As some people may or may not know, you started a 501c3 non profit group entitled Come and Live. Providing access to thousands if not millions of people to really amazing music that draws people near to Christ. What is the over all vision of C&L and what drove you to start it?
Chad Johnson : The vision has always been to encourage others. Encourage them to make Jesus their greatest treasure. Encourage them to love others the way we love ourselves. Encourage them to risk everything for the call of making Christ known to the world. Delivering music as a gift has become part of the "core" DNA of Come&Live!, it's birthed from a place of desiring to see generosity kindled in the hearts of men. Music is a powerful tool in connecting others to a loving God. Digital delivery allows people all around the world to discover artists serious about encouraging their faith journeys. My heart has been to see artists walk in a place of desiring God over anything else they could pursue in life. Our current mission statement says that we exist to establish the kingdom of God within a community of musicians. I'd say, nearly 3 years into it, that we are just now beginning to learn how to accomplish that. This has been a lesson, mostly a path towards learning just how much Jesus desires us to be in deep, intimate communion with Him – and how most everything in the world is aimed to keep us from that relationship.
Enoch Magazine : Personally speaking, the blogs on come and live have quotes from Charles Spurgeon or DR. John Piper, would you say that you hold to reformed theology? And how many other artists on C&L share you doctrinal beliefs?
Chad Johnson : I was re-introduced to a passion for Jesus through John Piper's ministry so he holds a dear place in my heart as the vessel God used to remind me that life is not meant to be wasted. I was really blown away by the excitement for Christ that I experienced within the Reformed movement. I also recently began attending a Reformed church here in town. But, in all honesty, I don't know what I am nearly as much as I know who I am. I believe God's Word is 100% inspired, Jesus is our only path to God, the Holy Spirit is a person whose power we desperately need, that hell is real, that God desires a relationship with ALL men, and that we, as Christians, are meant to help the world see how good our God is. I'm not really interested in theology that only leads me to know "about" God. Many times I hear but don't do. I want to be a hearer and a DOER of the Word. I want to be a follower of Christ. A Jesus follower. Whether I become labeled Catholic, Reformed, Presbyterian, Charismatic, Baptist, Methodist, Pentecostal or anything else under the sun is secondary. Did I KNOW Jesus and does He KNOW me? That will be the only question that separates me from an eternity with, or without, the presence of all the saints and the only true God. Each of the Come&Live! artists come from an almost entirely different background which is a beautiful thing to me. Jesus prayed for unity amongst believers. He knew we would disagree and fight each other over disagreements. I love His heart for unity. It wasn't at the sake of truth, it was unity for the sake of THE truth. God help us!
Enoch Magazine : How do Come & Live tours differ from tours like Tooth and Nail?" Do you see a hunger among people for sound doctrine and God's presence?
Chad Johnson : It's hard to differentiate tours because every tour is unique and (hopefully) special in it's own right. I can say that our desire is for all of our tours to be missional in expression, meaning that our highest goal in touring is to communicate the heart of the Father to a generation who needs Him. We have seen a great hunger in people for both sound doctrine and God's presence. The beauty is that, in God's eyes, there is no such thing as false doctrine in His presence. God is perfect. We, as flawed humans, are attempting to reveal as much of God's presence as we possibly can. Anything less than God's presence is an insult to the world and not a true reflection of how Christ walked the earth. We ought repent and ask for help (I am forced to do this often). Learning to put off the old creation and have our minds renewed daily is a wonderful challenge. It's been so fun to see God move each night at shows – sometimes in saving people, other times in encouraging their hearts, repairing their broken bodies, delivering their brokenheartedness and hurt. "Where the Spirit of the Lord is, there is Freedom." It's such a blessing, privilege and honor to help others experience God's kindness. I hope God allows me to do that for the rest of my life.
Enoch Magazine : Your name came up in an interview we did with Ivoryline. They said you urged them to put God first in their lives while on tour. Did you council all the Tooth and Nail bands? What did you say exactly?
Chad Johnson : Wow, I wish I could remember exactly what I said! I can't recall what I had said but what Ivoryline put forth sounds pretty good so I'll take their word for it, ha! I did enjoy spending time encouraging the T&N bands I worked with and still love it when our paths cross and I get to catch up with them. My time at T&N was very special, mostly sweet, and I'm grateful for every opportunity I was given. If anything, I wish I would have known then what I know now in regards to God's heart for others. I was easily distracted and still have to fight distraction daily.
Enoch Magazine : How do you handle the days when you feel in a spiritual slump so to speak, do you ever second guess this calling you have on your life, to want the comfort and stability again?
Chad Johnson : I rarely desire the comfort or stability that I once had because I also know the distraction that came along with it compared to the clarity and direction I now have. I have many times second-guessed my calling and questioned everything from faith in Christ to whether God could ever do anything through a fool like me. I have gone through seasons (thankfully fairly short-lived) where I have not pursued God or have not wanted to go after Him. The times where I don't see great God-sized activity around me, where the provision is not free flowing, or when there is nothing exciting to look forward to are likely the times that God is refining me the most. It's in the hard places that my faith becomes perfected. I love the opening chapter to the book of James. "Consider it pure joy my brothers when you experience trials of various kinds……" I could stop at "Consider it PURE JOY…", just those words cause my heart to skip a beat. Purity and joy! They go hand in hand. God desires for me to rejoice always, no matter what my circumstances. They are His way of making me pure. I want pure joy. Constant joy. The world needs that level of radiance. I'm not sure I'll be able to bless them with it unless I go through the ringer first. Are we willing to suffer for the sake of Christ and the glory due Him? Am I willing? Or do I just want a "get me the hell out of here card" that ensures my eternal destiny? We have got to long for more. We've got to go deeper. It's possible.
Enoch Magazine : Which comes first in your mind? The Ministry or the Money? In other words, how do you know a ministry or band is meant to happen or continue? Does God provide a way to sustain itself, and then you act? What if you act on faith and the funds never come to sustain your ministry or vision? In your experience, what is God saying?
Chad Johnson : Great question. Actually they've all been great questions and I'm inspired to try and respond with more than a typical "yes" or "no". Thanks for the challenge. If I say that money comes first, then I am implying that any ministry that is well-funded is truly doing the work of God (I pray they are). Yet, in the New Testament, it doesn't seem like Jesus, nor His disciples, were exactly well funded. When you, as the leader, have to instruct a close comrade to go fishing in order to pay the taxes, it makes you wonder what kind of business model You've got going? Jesus sent his disciples out ahead of him with the explicit command not to take extra anything. No money bags! Paul talks of how he often went without food and endured a slew of other hardships. It's not to say that God doesn't love to provide for us and that He ultimately always does. He just desires glory unto His Name far more than our superficial needs being met. God cares more for us than any bird of the air, but I'm convinced that He cares more about teaching us how to walk by faith – especially when we don't get what we've been asking for. That's when the real faith steps in. It's not hope anymore, it's a desperate letting go to still believe God cares. I believe that a "calling" most often will precede funds and that, typically anyway, funds follow fruit. Where we are bearing fruit, God will continue providing the means. It may never be easy. But even if God didn't provide a single penny our entire lives and even if I died hungry, would I still give glory to His name and would I still rejoice? Even if I died sick never having been supernaturally healed, would I still love God? And yet God is still Jehovah-Jirah (PROVIDER) and Jehovah-Rapha (HEALER) amongst many other things. He loves His children to love Him for who He is, not just for all the blessings He has to give us. As a father to two beautiful young kids, they will always celebrate my presence when I give them what they want, when I come bearing gifts. But do they want to just be with me for who I am? Will we keep going further into God's heart regardless of what happens? Will I carry on to earn the prize? Giving up ought not be words we ever utter when it comes to the race of faith. I pray we all keep going despite the cost, with a renewed vision to see the Father, Son and Spirit celebrated for the beauty that they have been, currently are and always will be.