Epicenter Festival 2010 Review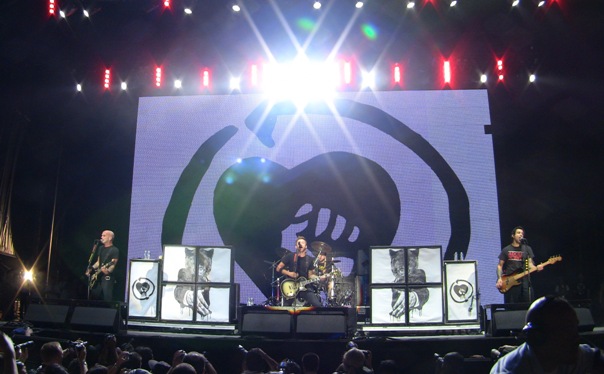 Reviewed by Nate Smith
Fans are what keep the music industry and the ever changing music festival alive. As the sun was setting at the Epicenter Festival I was ready for Rise Against to take the stage. Set next to the Fontana Raceway this 2 day festival was attended by over 50,000 fans and had the stellar lineup of Blink182, Rise Against, Eminem, Kiss, Bush, Suicidal Tendencies, Bad Religion, 30 Seconds to Mars, and many more.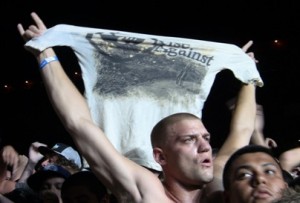 As Rise Against took the stage the crowd erupted. Singer, Tim McIlrath came out with the mic swingin' and a smile that simply said we're ready to rock as they opened with "Collapse." As I looked back into the crowd, their energy conveyed the powerful music that was emitting from these talented musicians. One young man in particular held up a Rise Against tee-shirt the entire set to show his dedication and support for Rise Against. After 2 hours Rise Against had held their own and gave the crowd just what they wanted.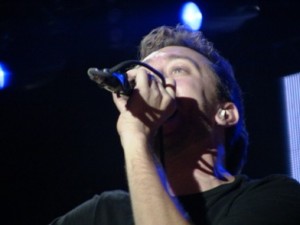 I've been a Blink 182 fan since I was 15 years old. After 18 years, 5 studio albums, and a brief hiatus I was anxious to see if they still had it. Simply put, yes they do. With the usual banter from Mark and Tom this 2 hour set may have been the best band of the festival. Mark messed up one song and kindly apologized to the fans as he then played the note to make it right. Blink 182 also announced that this would be their last show before they head into the studio. After a short break Travis Barker awed the crowd with an 8 minute drum solo, while rotating 360 degrees and spinning upside down. What a way to begin the encore. The music ensued with "Damnit", "Carousel" and "Family Reunion." I think it's safe to say after this set Blink 182 only left the crowd with a taste for a new record in 2011.